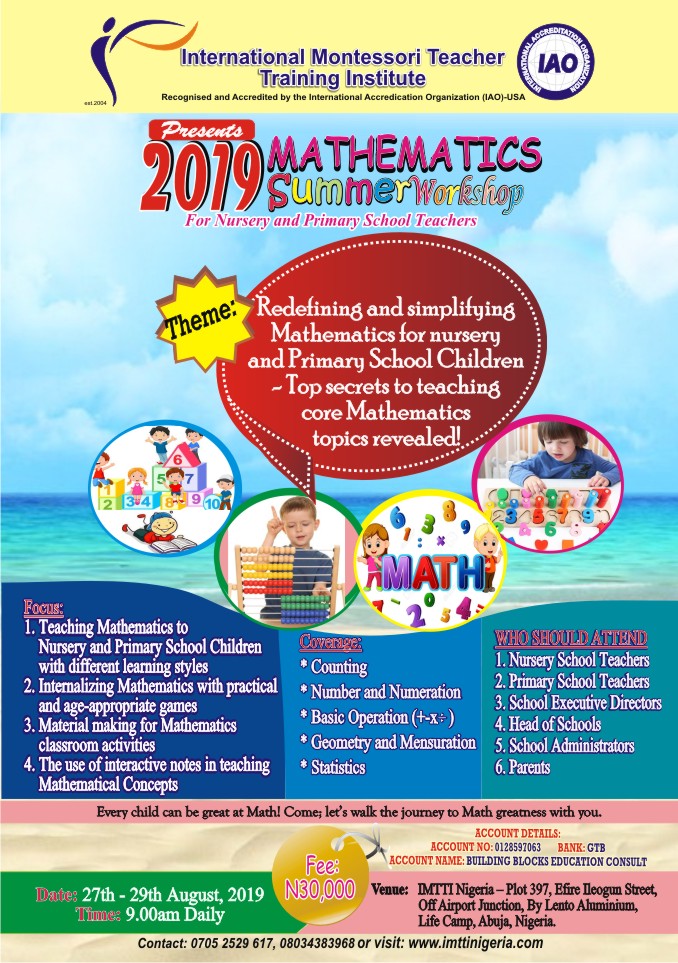 2019 MATHEMATICS SUMMER CLINIC FOR PRIMARY SCHOOL TEACHERS
Theme: Simplifying Mathematics for primary school children -Top secrets to teaching core Mathematics topics to be revealed!
FOCUS
1. Teaching Mathematics to Primary school children with different learning styles
2. Internalizing mathematics with practical and age-appropriate games
3. Material making for Mathematics classroom activities
4. Use of interactive notes to facilitate Mathematics lessons
Coverage:
Counting
Number and Numeration
Basic operations
Geometry & mensuration
Date: Tuesday 27th to Thursday 29th  August 2019.
Time: 9:00am – 3:00pm daily.
Venue: IMTTI NIGERIA: Plot 397, Efire Ileogun Street, Off Airport junction, By Lento Aluminium, Life Camp, Abuja, Nigeria.
FEE: N30,000 (covers training, material making sessions, certificate and lunch)
To register, kindly fill the form below: