IMTTI PROFILE
Thank you for visiting our website. We also appreciate your interest in the Montessori approach to child education and in our institute; International Montessori Teacher Training Institute – where Montessori methodology is simplified.
IMTTI is an ISO 9001:2008, ISO 9001:2015 Certified Montessori Teacher Training Institute recognized and accredited by the International Accreditation Organization (IAO) – USA.
Our aim is to pass on to our students the educational insights developed by our founder during her lifetime's work with children around the world. The educational method known as the Montessori System is recognized as one of the best throughout the world and is entirely compatible with the demands of our complex modern society. It is based on the firm belief that every child is born with creative potential, the drive to learn and the right to be treated as an individual.
International Montessori Teacher Training Institute is proud to launch IMTTI Nigeria, a franchise partnership between the IMTTI Group's Principal College in India and Buildingblocks Montessori Services Limited in Abuja, Nigeria.
As a premier Montessori teacher training institute, we offer Montessori Diploma Courses in Early Years Education for Early Years Teachers and Practitioners. These courses meet the National and International requirements for teaching and practicing in the Early Years Setting. The Diploma Courses also effectively equip those wishing to start their own Early Years Schools. Graduates and Holders of IMTTI Diploma Certificates easily find jobs in Nigeria and Overseas.
Our course-ware focuses upon the essential of Montessori theory. In the true tradition of Dr. Maria Montessori, we place great emphasis on practical work under the guidance of experienced tutors. We see the balance between theory and practice as a vital component of any Montessori training.
We hope all information on our website will be sufficient to encourage you to join us as we look forward to welcoming you as one of IMTTI's future Montessorians.
Accreditation
International Montessori Teacher Training Institute is recognized and accredited by the prestigious International Accreditation Organization (IAO) of the United States of America.
IAO is an international quality assurance agency, working to improve quality assurance standards of organizations all over the world. With its global network of experts, IAO grants accreditation to educational institutions, corporations, professionals and qualified individuals.
The accrediting body owes its success to its strong network of experts and accreditation professionals serving in over 180 countries. IAO also collaborates with regional accreditation bodies to supplement their strict accreditation methods.
International Montessori Teacher Training Institute complies with the standards and criteria established by the International Accreditation Organization (IAO) and have been granted candidacy status along with all the services and privileges of regional, national and international professional recognition.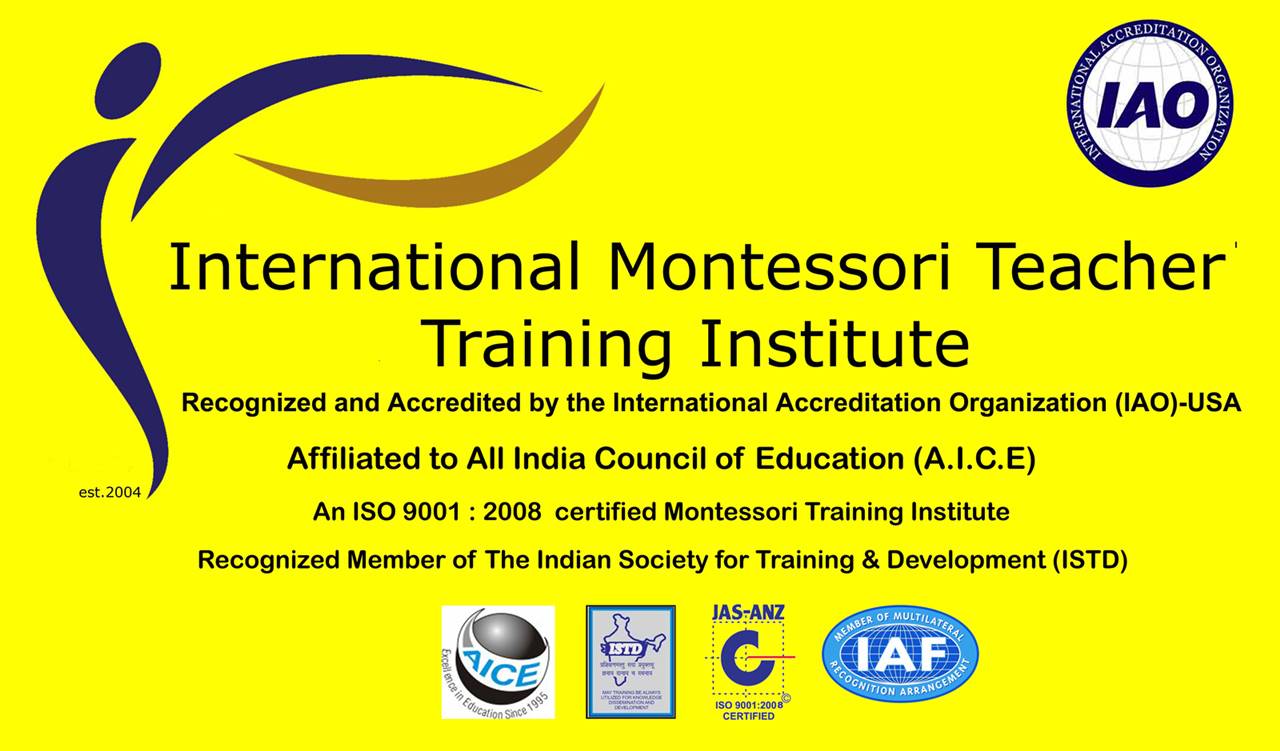 Mission
To instill in every teacher, the light of the Montessori guiding spirit. To work towards betterment of Mankind; Common goal for peace.